LAST LOCATION: Mt. Katahdin, Maine
Donated:
$5720.47!
OR MAIL TO:
World Vision
PO Box 9716
Federal Way, WA 98063
Reference code 21507326
DONATIONS ARE TAX DEDUCTABLE AND ARE DONATED TO SUPPORT THE CHARLIE BUTTERWORTH MEMORIAL
BUY A T–SHIRT!
T–SHIRTS ARE SOLD OUT!
ALL T–SHIRT PROFITS GO TO WORLD VISION TO SUPPORT THE CHARLIE BUTTERWORTH MEMORIAL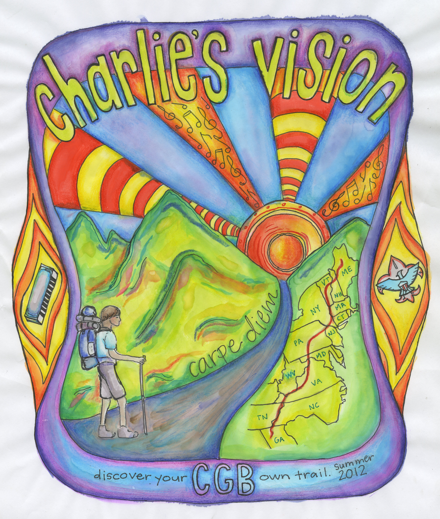 GET YOURS NOW!
The Charlie's Vision tshirts are now accepting pre–orders
last date for pre–orders is Thursday, April 5th.
After gathering ideas from many of Charlie's friends, Jane Hall designed this t–shirt to help raise money for World Vision. The sun is a subwoofer, representing Charlie's love for music. Within the mountains is the phrase "carpe diem," which was the theme of his eulogy given by Brian Silldorff. To the right is a map of the Appalachian Trail, which represents the journey that seven of Charlie's friends are making in his honor this summer. The left edge of the painting includes a harmonica, one of Charlie's favorite hobbies. The right edge includes the Boy Scouts of America logo, acknowledging his accomplishments as an eagle scout. Along the bottom is the phrase "discover your own trail", which his friends think describes the way Charlie addressed life in a nonconformist and spontaneous way, along with his initials CGB (Charles Gardner Butterworth). The painting is done in bright hues as an attempt to represent the vibrancy in Charlie's personality and all of the color he brought to our lives. We are hoping to sell many of these shirts to raise money for World Vision, one of Charlie's favorite humanitarian organizations.
All Profits Go To World Vision.
« CLICK TO ORDER »